There is a self-help version of CBT-E available. This is presented step-by-step in the book Overcoming Binge Eating (Second Edition). It is often effective as a treatment for binge eating disorder and, to a lesser extent, bulimia nervosa, especially if there is some ongoing external support. A digital form of Overcoming Binge Eating, called Digital CBTe is currently under development.
Use of Overcoming Binge Eating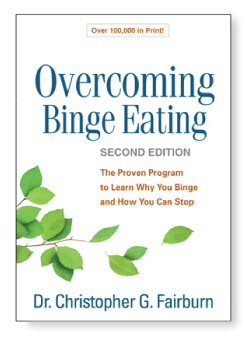 Overcoming Binge Eating is designed to provide a readable and authoritative account of binge eating problems and how to overcome them. Part I is exclusively educational and presents facts. It is about eating problems in general and not just binge eating. Part II comprises a self-help programme based on the latest version of the most effective treatment available. The programme can be used by anyone with a binge eating problem (including those with binge eating disorder and bulimia nervosa) so long as they are not substantially underweight.
The original version of Overcoming Binge Eating was published in 1995 and the second edition in 2013. Since then Part I has become established as a leading source of information on binge eating problems. Meanwhile the treatment program in Part II has been investigated in numerous clinical trials making it possibly the most extensively tested self-help program for any problem. It has repeatedly been found to be a potent source of help, either when used on its own or when used with external support (guided self-help). As a result, the program has become established as a leading treatment for binge eating problems. In recognition of this, Overcoming Binge Eating was awarded the Seal of Merit from the US Association for Behavioral and Cognitive Therapies and in the UK National Health Service doctors can prescribe the book as if it were a form of medication.
Preface to Overcoming Binge Eating (Second Edition)
As new knowledge is acquired from empirical research, it leads to advancements in treatment. As a result, the second edition is essentially a new book. It continues to provide a comprehensive and up to date account of what we know about binge eating problems, including those seen in anorexia nervosa, but it also provides much more information about dieting, body weight and body image.
Part II has been substantially modified in light of advances in treatment, particularly those made by CBT-E. CBT-E includes a new way of conceptualising eating problems, improved ways of regaining control over eating, a more sophisticated approach to the addressing of concerns about shape and weight, and much more emphasis on relapse prevention. These new developments have been incorporated into the self-help program. The self-help program in this new version of Overcoming Binge Eating is, in essence, a self-help version of CBT-E.
Reviews of Overcoming Binge Eating (Second Edition)
"By any standard, Christopher Fairburn is the leading authority in our field, so who better to write the definitive book? This program is based on vast clinical experience, numerous clinical trials, and a breadth of perspective that few possess. You can trust this book. It is a landmark."
Kelly Brownell PhD, Director, Rudd Center for Obesity, Yale University
"It is difficult to improve on a classic, but that is exactly what Dr. Fairburn has done. Overcoming Binge Eating, Second Edition, expands on the highly effective cognitive behavioral treatment for eating disorders that Dr. Fairburn has developed. If you or a loved one suffer from binge eating, bulimia or other eating disorders, this is the book to read–and re-read."
Robert Leahy PhD, Director, American Institute for Cognitive Therapy
"In this gem of a book, Dr Fairburn draws upon decades of clinical experience and research findings on binge eating and related problems. This new (and thoroughly reworked) edition is a "must read" if you want to understand binge eating problems and begin (or guide and support others on) the journey toward full recovery."
Ruth H. Striegel PhD, Editor-in-chief, International Journal of Eating Disorders
​Other Languages
Overcoming Binge Eating is available (or soon to be available) in Bulgarian, Dutch, English, German, Italian, Japanese, Norwegian, Polish, Spanish, Swedish and Turkish.
Accessibility
We are aware of issues around accessibility. There is not currently an audio version of Overcoming Binge Eating, however the book is available on kindle, where books can be read aloud using an auto-generated voice. Unfortunately Overcoming Binge Eating is not currently available in British Sign Language.
Further Developments
In addition to this printed self-help version of CBT-E, a digital form of CBT-E is under development.
Please contact us if you are a primary care psychological service for more information on using a CBT-E self-help programme alongside non-specialist guidance (Guided Self-Help): credoenquiries@psych.ox.ac.uk